Top 100 Online Clothing Stores For All Styles, Body Types, & Budgets
During this period of incertitude, online clothing stores are the safest way of discovering and shopping aesthetic clothes, designer labels, streetwear brands, and comfortable athleisure.
The options are endless, from the most affordable to the most expensive apparel, as most brands have shifted all stock online, given the strict on-site policies during the pandemic.
In this article, I'll introduce you to the best 100 online clothing stores selling affordable and cheap stylish and trendy clothes, ideal for all tastes and pockets.
Without further ado, these are the best online clothing stores in 2022, stocking affordable vintage clothing, pre-owned designer pieces, comfortable work-from-home apparel, and much, much more.
Top 10 Online Clothing Stores (Editor's Pick)
---
1
/10
YesStyle
Best Asian Online Clothing Store
from $8
EDITOR'S NOTE:
"Ideal for Japanese streetwear and Korean fashion (latest Korean fashion trends) for those on a limited budget."
Hosting over 300 fashion brands from Tokyo, Seoul, and Hong Kong, YesStyle is one of the world's largest online clothing stores for Asian fashion, Korean beauty, and lifestyle products.
YesStyle's offering of Asian designer brands, clothes for petite and plus-size bodies, and excellent shipping and returns options are tough to beat right now.
---
2
/10
Nasty Gal
Best Women's Online Clothing Store
from $5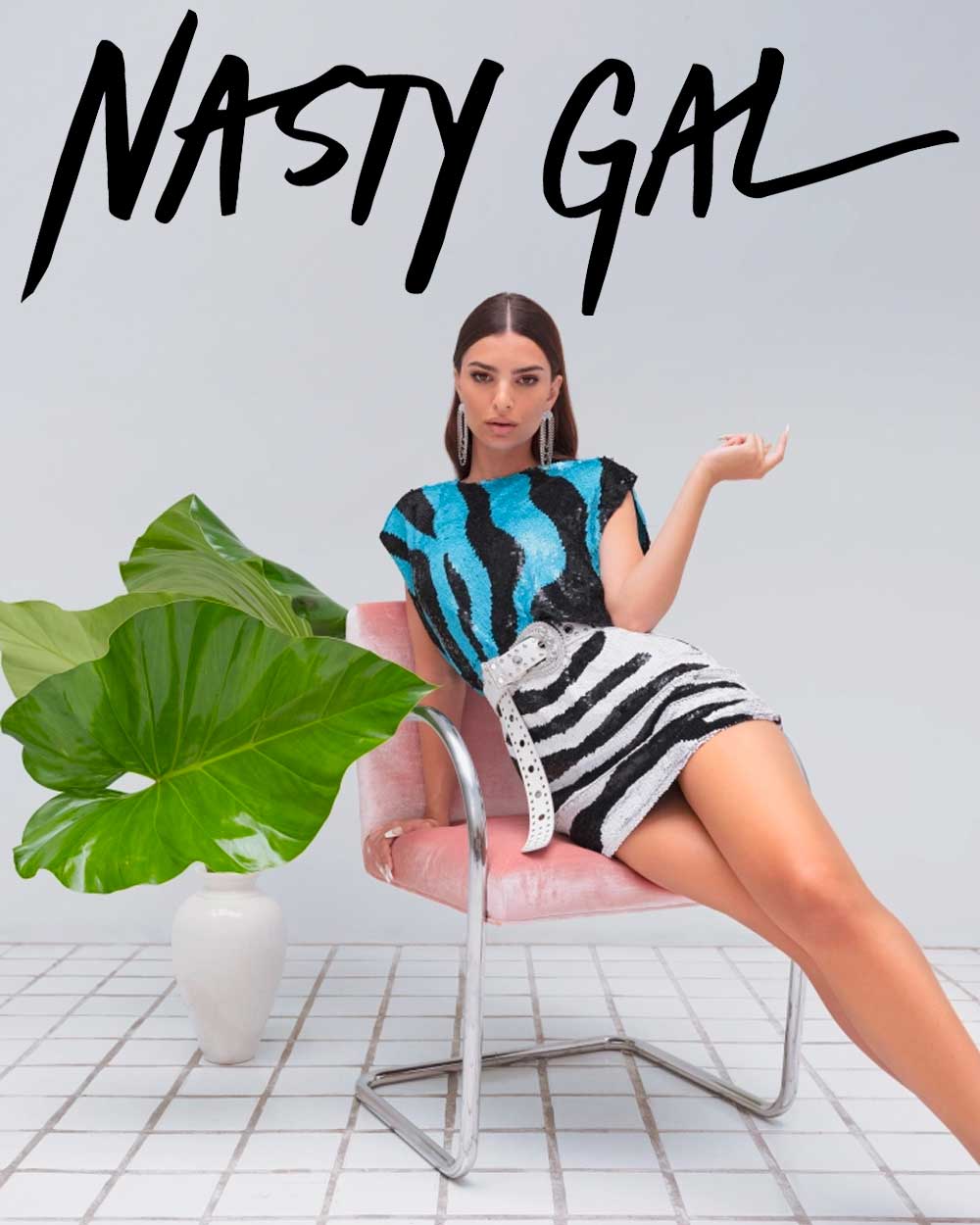 EDITOR'S NOTE:
"Stocking designs from Bardot, Glamorous, Jaded London, Courtney, and its line, Nasty Gal is an online clothing store dedicated to the younger and edgier fashionistas out there."
Founded in 2006 by Sophia Amoruso, Nasty Gal was later named the "Fastest Growing Retailer" by INC magazine, and for a good reason.
Hailing from Los Angeles, Nasty Gal started as an eBay store selling vintage clothing items shortly after blowing into a global online clothing store for affordable women's clothing.
---
3
/10
Amazon Fashion
Best Men's Online Clothing Store
from $10
EDITOR'S NOTE:
"Beyond affordable, Amazon is now one of the largest online clothing stores globally for trendy pieces and athletic wear, especially for men (less fussy when it comes to where they get clothes from)."
Amazon has everything clothing and accessories related in stock, from jeans to vegan trainers, jackets, and even leggings for squatting at the gym.
The platform lets you search by type of garments, color, brand, price, size, and even delivery cost.
Another highlight of this online clothing shopping site is the customers' review section.
For example, you can select clothes rated four stars and up and also benefit from free delivery – if you have Amazon Prime.
---
4
/10
Pacsun
Best Online Clothing Store For Teenagers
from $6.49
EDITOR'S NOTE:
"PacSun' has a wide selection of men's and women's clothing that is affordable and trendy. However, the online clothing store shines thanks to its Californian-inspired swimwear."
Pacific Sunwear of California, LLC, is an American retail clothing brand that sells lifestyle apparel and footwear and accessories.
Designed for teens and young adults, the store's beach and lifestyle offerings are what make it stand apart from the competition.
---
5
/10
Boohoo
Best Cheap Online Clothing Store
from $12
EDITOR'S NOTE:
"The cheapest online clothing store on this list, Boohoo's offering of trendy and seasonal clothes starts at only $2, with hundreds of new additions every day."
Boohoo is one of the world's fastest-growing online clothing stores right now.
The booming fast-fashion retailer has over 100 new garments and accessories hitting the site every day.
The majority of styles on offer are under $100, and some garments are as low as $2, so fill up your basket without any spending guilt.
---
6
/10
ASOS
Most Popular Online Clothing Store
from $8.90
EDITOR'S NOTE:
"Excellent offering of affordable designer clothes, shoes, and accessories with a British and European twist."
Launched in 2020 in the UK, Asos is one of the biggest online clothing stores and fashion retailers in 2022.
The online clothing shop offers a wide range of designer clothing, shoes, and accessories, somehow with a British and European twist.
Packed with inclusive and androgynous clothing, Asos is also one of the industry's leading clothing stores, supporting LGBTQ+ and gender-free communities.
---
7
/10
Beyond Retro
Best Online Thrift Clothing Store
from $5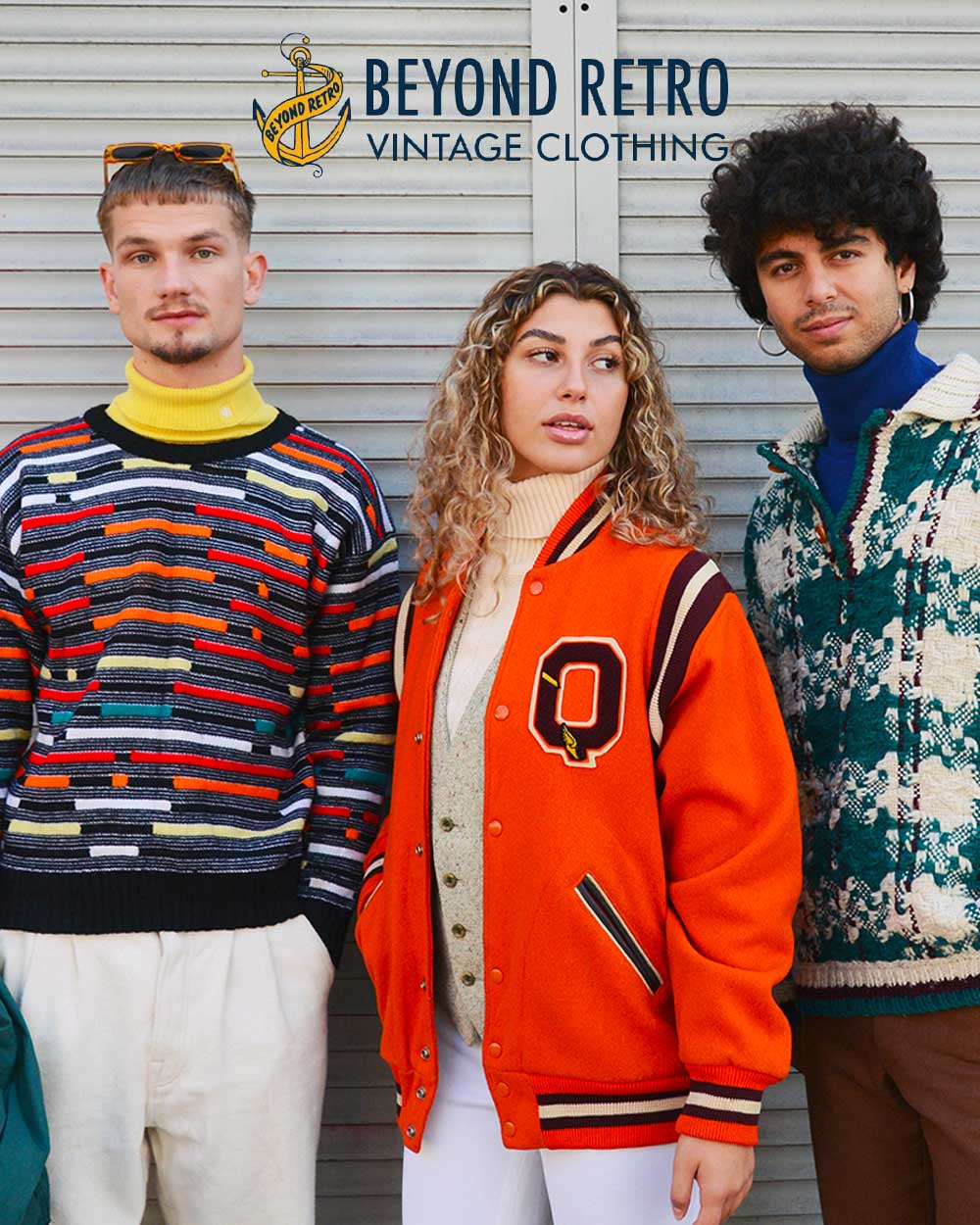 EDITOR'S NOTE:
"Worn by Paloma Faith, Barry Chuckle, Kate Nash, Diana Vickers, Jessie J, Marina & the Diamonds, Giant Haystacks, Carl Barat and Alexa Chung, Beyond Retro is the home of vintage and thrift clothing."
Beyond Retro is an online vintage clothing store with retail shops in the UK and Sweden, selling vintage clothing from every era of the 20th century.
As Beyond Retro buys all clothing from charities and recycling companies, it is considered one of the most sustainable online clothing stores in the world right now.
---
8
/10
Torrid
Best Online Clothing Store For Plus Size
from $19.50
EDITOR'S NOTE:
"Great online clothing store for plus-size clothing, accessories, shoes, jewelry, novelty tee shirts, fashion tops, pants, and all sorts of cheap but efficient beauty products."
Torrid Holdings is an American fashion retail chain that offers plus-size clothing and accessories for women wearing sizes between 10 to 30.
Torrid's comprehensive offering includes accessories, shoes, jewelry, novelty tee shirts, fashion tops, pants, shorts, skirts, dresses, outerwear, intimate apparel, hosiery, gifts, and beauty products.
---
9
/10
Rue 21
Best Black-Owned Online Clothing Store
from $3.97
EDITOR'S NOTE:
"As the name suggests, Rue 21's clothes are designed to appeal to people who desire, wish, or feel to be 21 years old, and indeed, it does an excellent job at achieving that."
Rue21 is an American specialty retailer of women's casual apparel and accessories headquartered in the Pittsburgh suburb of Warrendale, Pennsylvania.
rue21 online clothing store stocks from petite to plus size clothing for women from its brands such as rue21 etc.!, CARBON elements, RAE, true by rue21, ruebeauty, ruebleu SWIM, rueDecor, in addition to third party clothing brands.
Overall, Rue 21 is one of the few online stores that still offers quality clothing from independent designers and favorite brands at prices below the market.
---
10
/10
Attitude Clothing
Best Alternative Online Clothing Store
from $9.49
EDITOR'S NOTE:
"The home of alternative clothing and goth styles, Attitude Clothing is staying true to its roots of an online clothing store dedicated to those with a passion for the darker side of life."
Established in 1996, Attitude Clothing Co. is the UK's original online retailer of men's and women's alternative clothing, footwear, jewelry, and accessories.
Fuelled by a love of metal, punk, and heavy rock, the store has been at the front line of alternative fashion for over 20 years, offering the hottest designs in streetwear, goth, grunge, punk & rockabilly, and everything in between.
Attitude Clothing Co. is the home of the evilest attire featuring the best alternative clothing for metalheads, old skool punks, and nu-goths alike.
---
Best Online Clothing Stores By Category
(Full List)
---
READY-TO-WEAR ONLINE CLOTHING
Amazon Fashion (amazon.com)
With a wide range of products on offer, for every budget and every taste, Amazon's online fashion store is the place to shop for independent designers and apparel you see your favorite TikTokers and favorite influencers wear every day.
American Eagle (ae.com)
Praised for its affordable price American Eagle is one of the few American online clothing stores that stock plus-size lingerie and similar underwear and basic ranges.
Ann Taylor (anntaylor.com)
Ann Taylor is a solid choice for stylish workwear for women, men, and unisex. Moreover, if you sign up for emails, you can save $25 off your first purchase above $75.
Anthropologie (anthropologie.com)
Anthropologie is the ideal online clothing store for boho-inspired clothing. The American retailer has many affordable and stylish women's clothing, accessories, and even home goods.
Attitude Clothing (attitudeclothing.com)
AC's online clothing store is a one-stop destination for all fashion and beauty needs at a reasonable price from various brands and own labels.
ASOS (asos.com)
Based in the UK, Asos is one of the biggest online retailers offering a range of independent designers and inclusive clothing.
Bershka (bershka.com)
Bershka is an online clothing store belonging to the same company that owns Zara. The brand stocks inexpensive clothes for men, women, agender, and excellent shoes and accessories.
Boohoo (boohoo.com)
Boohoo's online clothing store has over 100 new pieces arriving every day, from as low as $2, so there's no better shop to fill up your basket without breaking the bank.
Dorothy Perkins (dorothyperkins.com)
Dorothy Perkins's online store stocks size 2 to 18 petite, carrying plus-size, tall, petite, and maternity clothes in all styles, from classic to high-end.
ELOQUII (eloquii.com)
Eloquii's selection of garments for curvy bodies has a perfect balance between elegant and trendy as the retailer collaborates with influencers like Gabi Fresh and I Am BeautiCurve.
Everlane (everlane.com)
Everlane's wide range of basics and essentials ranks in the top three with ease, thanks to material quality, price, and timeless styles.
Express (express.com)
Express offers casual options for both men and women, including a wide selection of denim and business-casual clothes, lingerie, and undergarments.
FarmRio (farmrio.com)
Expect lots of bright, exciting colors and unique patterns from Farm Rio clothing. The brand's dresses and jumpsuits stand out via tropical prints and florals, and each piece looks as rich as it does joyous.
Forever 21 (forever21.com)
A popular inexpensive source of trendy clothing, Forever 21 offers affordable and cute casual wear for all ages, sexes, and body types.
Fox Holt (fox-holt.com)
Fox Holt's online clothing store brings sustainable, eco-friendly, animal-friendly, and environmentally conscious fashion to the forefront and makes it the new norm.
Holt's online clothing store is a fantastic place to discover new, innovative designers across fashion, accessories, and lifestyle goods.
Francesca's (francescas.com)
Francesca's online clothing boutique features gorgeous collections ready for summer; dresses, brightly printed scarves, hand-woven tops, all in superb floral prints.
Free People (freepeople.com)
Free People's online clothing store is perfect if you look for clothing with a boho vibe. The store sells clothing, shoes, accessories, lingerie, and swimwear for the hippy-at-heart ones.
GAP (gap.com)
Gap's online clothing store offers affordable basics and casual clothes for women, men, and children. Fill up your basket with beautiful pieces that are fit for brunch, the beach, or a trip around the world.
Also, take a look at the brand's activewear section; you won't be disappointed at all.
Garmentory (garmentory.com)
Garmentory provides an excellent online retailing platform for small boutiques and independent designers from across the globe.
The site is packed with jewelry, clothes, shoes, and accessories (as well as menswear, kid's, and some home decor items), most of which are handmade in small batches.
H&M (hm.com)
H&M is a Swedish super-retailer popular for affordable, fast-fashion clothing. H&M is highly recommended for cheap basics, lingerie, trendy tops, accessories, workwear, activewear, and even homeware.
Kohl's (kohls.com)
Kohl's online clothing store stocks anything fashion-related, from high-end designer brands to independent labels and their pre-loved styles.
Lane Bryant (lanebryant.com)
Packed with colorful, trendy, and modestly priced clothes, Lane Bryant's online clothing store is the go-to for plus-size customers who want cute and stylish clothes rather than the insultingly dowdy options for women who wear US 14 or above.
Lisa Says Gah (lisasaysgah.com)
This San Francisco-based online shop is a bit smaller than most online clothing stores on this list but comes with a great selection of everyday styles.
Floral frocks from Just Female, neutral-hued sandals by Vagabond, KJP's graphic tees, and cozy knits à la Paloma Wool.
LOFT (loft.com)
Loft's online clothing store focuses on millennials by selling a range of clothes inspired by comfort and style.
The brand also makes it a point to consider the planet with its dedication to eco-friendly materials.
Macy's (macys.com)
Macy's is one of the oldest and largest department stores offering a wide range of clothes, shoes, and accessories online.
Macy's store offers far more affordable brands than most department stores right now, so give them a try.
Marks and Spencer (marksandspencer.com)
Marks and Spencer's online clothing store offers a range of high-quality relaxed and chic styles for those with a strict budget.
Also, make sure you explore the M&S & Alexa Chung collaboration if you're interested in vintage-inspired styles.
Missguided (missguidedus.com)
Missguided is a UK-based multi-channel retailer selling clothes for 16–35-year-old women.
Missguided has also launched a menswear brand called Mennace, delivering through their website.
ModCloth (modcloth.com)
ModCloth launched in 2002 and offers vintage and boho clothing exclusively from independent designers. The brand's online clothing store is perfect if you look for retro dresses.
Nasty Gal (nastygal.com)
Nasty Gal was founded in 2006 by Sophia Amoruso and was later named the "Fastest Growing Retailer" by INC magazine.
The e-commerce giant sells a broad range of genuine vintage and new, vintage-inspired pieces based in Los Angeles.
Old Navy (oldnavy.gap.com)
Old Navy is great for affordable basics – for men, women, and children.
Founded in San Francisco and now owned by Gap, Old Navy's online store is an excellent source of affordable clothes for girls with a bit of attitude who like to have a lot of fun.
PacSun (pacsun.com)
PacSun is an American retailer that sells clothing inspired by the relaxed California lifestyle. The store sells a selection of men's and women's clothing and great swimwear.
Rag & Bone (rag-bone.com)
Rag and Bone's online clothing store has an impressive collection of apparel, footwear, and accessories for all the fashion-savvy ladies out there.
The items may come with a higher price tag than many other online stores, but you're paying for good quality and a brand name that is tried and trusted.
Reformation (thereformation.com)
Reformation is the perfect site for fun prints or trendy yet straightforward dresses.
Since it was founded in 2008, the store has remained true to its roots by only offering eco-friendly clothes.
REVOLVE (revolve.com)
Revolve was founded in 2003 as an e-commerce site and offered a variety of fashionable brands targeted towards millennial women.
Nowadays, Revolve stocks some of the trendiest clothes and styles you'll need for a season update from prominent designer brands.
Rosegal (rosegal.com)
Rosegal's collection is down-to-earth with loads of cute daytime wear, asymmetrical t-shirts, plaid shirts, hoodie dresses, and floral shift dresses.
The site is popular with college students, but there are garments suitable for older fashionistas.
Rue21 (rue21.com)
Rue21 clothing store is the place to shop if you want to keep an eye on the latest fashion trends.
For convenience, fashion lovers can also get their favorite beauty products on the site, which is super appealing because you don't have to order from multiple retailers.
The Folklore (thefolklore.com)
Based in NYC, Folklore aims to highlight African designers by stocking womenswear, menswear, and lifestyle brands, like Andrea Iyamah, Bloke, and Studio Badge.
The prices run from about $60 up through $800-plus, although most fall within a range of $200 to $350.
TJ Maxx (tjmaxx.tjx.com)
TJ Maxx is an American department store chain that sells discounted clothing and home goods.
Packed with brightly colored and intricately detailed, the store's designer clothing, accessories, jewelry, bags, and shoes are cheaper than anywhere else right now.
TORRID (torrid.com)
Visit Torrid if you're on the lookout for indie, vintage, and retro-inspired clothing and accessories.
This brand is democratizing approach to fashion, featuring various models on its site and selling styles to suit everyone.
Tuckernuck (tnuck.com)
Tuckernuck has a classic American vibe similar to Ralph Lauren or Tory Burch but with a cheeky twist. Expect lots of brighter colors, unique patterns, and a touch of boho.
Tuckernuck's in-house line with the same name features easy silhouettes, lots of chambray, ditsy florals and stripes, and timeless accessories.
Uniqlo (uniqlo.com)
Uniqlo's motto is "simple made better." The Uniqlo collection is consistent in style and pricing — you'll find pieces that are very wearable and affordable.
From $60 down jackets to $15 bras, pieces in the Uniqlo collection can fill almost any fashion void you have.
Urban Outfitters (urbanoutfitters.com)
Urban Outfitters stocks a massive range of brands and styles so that you can find what you need for the price that you want.
Filter products by categories, styles, lengths, sizes, colors, brands, and prices to quickly hunt down essential items, or just click through pages and browse all the lovely styles.
Verishop (verishop.com)
From men's and women's clothing and apparel to beauty and wellness or stylish pieces for your home, Verishop's online store is the best for digitally native brands such as Billie the Label, and leisurewear brand LETT.
W Concept (wconcept.com)
This Korean-based retailer is your ultimate destination for emerging Asian designers such as Reike Nen, Yan13, and Yuul Yie, to list a few better-known names.
Like many other stores on this list, W Concept sells menswear and lifestyle goods, in addition to women's clothes, shoes, bags, and accessories.
Wolf & Badger (wolfandbadger.com)
Most outfits at W&B hover around $150, while tops tend to come in under $100. There's also swimwear, intimates, shoes, bags, accessories, and an entire site section devoted to faux fur.
The retailer also has frequent budget-friendly sales that tend to feature one designer at a time and include new seasonal pieces.
YesStyle (yesstyle.com)
Hosting over 300 fashion brands from Tokyo, Seoul, and Hong Kong, YesStyle is one of the world's largest online marketplaces for Asian clothing, beauty, and lifestyle products.
Zappos (zappos.com)
Purchased by Amazon in 2009, Zappos started as a site selling shoes but has now expanded into clothing.
Affordable, stylish, and modern, all apparel and accessories sold on Zappos are worth checking.
Zulily (zulily.com)
Zulily works on a unique model where you have to create an account and sign in to shop. Then, you'll have to wait two or three weeks to receive your order.
But if you're OK with that, you can score some fantastic deals such as designer bags for under $100.
ONLINE DESIGNER CLOTHING
Bloomingdales (bloomingdales.com)
Bloomingdales is an American department store founded in 1861. The online version of the store has everything from home goods to men's and women's fashion.
The store also sells luxury brands such as Burberry and Gucci.
Coggles (coggles.com)
Featuring designers like Victoria Beckham, Balmain, and Kenzo, you can filter through thousands of beautiful clothes and accessories on Coggles to find something perfect for you.
Farfetch (farfetch.com)
Farfetch is one of the most popular high-end designer online stores right now.
With vintage pieces from the labels you love, like Chanel, Yves Saint Laurent, and Versace, you can be seen in something that no one else is wearing.
Harrods (harrods.com)
Home to over 5000 brands, this British department store is the home of high-end designer fashion and accessories, luxury beauty, fine jewelry and watches, food, furniture, and more – in-store and online.
MATCHESFASHION (matchesfashion.com)
From essentials to the exquisite, Matches Fashion offers unmatched assistance. If you're unsure how to put a look together or need to spark your inspiration, this online store has a dedicated team always ready to help.
MODA OPERANDI (modaoperandi.com)
Moda Operandi is the home of the latest runway collections and discounted last-season styles via semi-frequent special offer sales.
Expect stunning gowns from Chanel, pants from Victoria Beckham, flirty frocks by Rixo, trendy puff sleeve tops from Johanna Ortiz—as well as swimwear, shoes, bags, and statement accessories.
Olivela (olivela.com)
Olivela carries an impressive collection of accessories, shoes, bags, jewelry, and beauty from emerging high-end brands such as Helmut Lang, Alice McCall, Rachel Comey, Zimmermann, and many more.
Saks Fifth Avenue (saksfifthavenue.com)
Saks Off Fith is the sister company of Saks Fifth Avenue, the famous New York department store, but specializes in discount designer clothing and accessories.
You can choose from a wide range of designers, pick the trendiest apparel, handbags, and shoes, and finish off your looks with exciting pieces of jewelry and chic accessories.
Selfridges (selfridges.com)
Selfridges, also known as Selfridges & Co., is a UK-based luxury department store operated by Canadian group Selfridges Retail Limited, part of the Selfridges Group of department stores.
Selfridges was founded by Harry Gordon Selfridge in 1909 and has since become the home of the world's best designers and one of the most popular touristic attractions in central London.
Shopbop (shopbop.com)
Owned by Amazon, Shopbop offers designer fashion for both men and women.
Since its opening in 1999, Shopbop has become one of the largest online shopping sites, stocking contemporary designer labels and their rare collections of apparel, shoes, bags, and accessories.
SSENSE (ssense.com)
From Gucci to La Perla, if you're into luxury fashion and independent designers, look no further than SSENSE, a Montreal-based fashion retailer.
With thousands of highly curated pieces available, you can find the latest items fresh off the runway or that one-of-a-kind piece to adore.
The Webster (thewebster.us)
Webster's online clothing store is ideal for fun party dresses or gorgeous day wear.
The store is also known for curating terrific pieces from up-and-coming designers like Daniëlle Cathari and Collina Strada.
Still, you can also find garments from old favorites like Chloé, Vetements, and The Row.
YOOX (yoox.com)
If you need a top fashion label to show off, head without hesitation to Yoox.
Whether you're after designer bags, clothes, or shoes, Yoox is the place to shop for leading designer names such as Jil Sander, Marni, Prada, Gucci, Valentino, Chanel, Rochas, and many more.
ONLINE CLOTHING OUTLETS
GILT (gilt.com)
Launched in 2007, Gilt is an online shopping destination headquartered in New York City.
Specialists in designer clothes and accessories, the site has excellent deals and special offers on beauty and lifestyle products.
THE OUTNET (theoutnet.com)
The Outnet is an online fashion outlet offering more than 350 luxury designer brands at a discount. Excellent online store to visit if you're after rare luxury pieces but don't want to blow your whole paycheck in one go.
Created by the team at Net-A-Porter, some of the brands featured on The Outnet include Chloé, Stuart Weitzman, and Oscar de la Renta.
ATHLEISURE & SWIMWEAR
Aerie (aerie.com)
Aerie is a lingerie brand owned by American Eagle Outfitters, offering a wide selection of discounted clothing for women between 15 to 25 yo.
If you want to update your wardrobe with on-trend clothing and accessories that are also high-quality and affordable, American Eagle is the brand for you.
Alo Yoga (aloyoga.com)
Alo Yoga is a yoga-wear designer based in Los Angeles, California. The brand offers high-end yoga and workout wear, including leggings, sweats, and sports bras.
Alphalete (athleta.gap.com)
Alphalete was founded on social media and has grown into a famous athletic wear brand. The brand creates high-quality clothing for men and women at very affordable prices.
Bandier (bandier.com)
Bandier is a site selling luxury athletic wear that offers a range of clothing and accessories from global names as Nike, Spiritual Gangster, Alo, and many more.
Beyond Yoga (beyondyoga.com)
Beyond Yoga is a luxury lifestyle workout brand that sells leggings, sports bras, and tops.
But above all, the brand's maternity clothing selection is a must-see for those looking to continue doing yoga for months into their pregnancy.
Carbon38 (carbon38.com)
Carbon38 was founded in 2011 and launched to cater to women looking for stylish workout clothes.
The site mainly offers high-fashion apparel such as leggings, workout tops, and sports bras and sells items from various designers all in one place.
Evolve Clothing (evolveclothing.com)
Evolve is a specialty retailer for eco-friendly fashionable workout clothing and sells items from more than 50 brands.
Fabletics (fabletics.com)
Fabletics is an online subscription retailer owned by Kate Hudson that sells athletic wear and footwear. You have first to take a quiz that tailors products to your needs to shop.
Girlfriend Collective (girlfriend.com)
Girlfriend Collective is an activewear brand that makes sustainable clothing from recycled plastic bottles and discarded fishing nets.
GYMSHARK (gymshark.com)
Founded in 2012, Gymshark is a British fitness apparel and accessories brand, manufacturer, and retailer headquartered in Solihull, England.
Nowadays, Gymshark's online outlet is excellent for cheap gym and fitness apparel.
Koral (koral.com)
Koral sells trendy women's activewear, including jackets, leggings, sweatshirts, and sports bras.
Lululemon (lululemon.com)
Lululemon is a leading sportswear brand, and for those interested to know why, see this article here detailing why Lululemon is so expensive.
With countless legging and yoga pant options to choose from, the athletic-wear brand is basic yet fashionable.
Marika (marika.com)
Marika is an athletic-wear brand that sells basics, including sports bras and leggings. The prices are slightly more affordable than other athleisure brands.
Outdoor Voices (outdoorvoices.com)
Outdoor Voices was founded in 2013 and designs and sells athletic clothing for men and women. Some of the brand's pieces are sustainable, made from recycled plastic bottles.
LINGERIE & UNDERWEAR
Adore Me (adoreme.com)
Adore Me is an online retailer selling bras, lingerie, and underwear. To see the selections, which range in sizes from petite to plus, you must first fill out a style quiz.
Bare Necessities (barenecessities.com)
Bare Necessities is an online clothing company dedicated to swimwear, lingerie, and loungewear. According to the company, it is the second-largest online retailer for lingerie.
Hips & Curves (hipsandcurves.com)
Launched in 2000, Hips & Curves commercializes excellent plus-size lingerie online and offline.
The brand's site has a large selection of affordable bras, underwear, and lingerie, all at super affordable prices.
Savage X Fenty (savagex.com)
Rihanna's Savage X Fenty is an athleisure – lingerie label that creates beautiful, lacy, strappy, sexy pieces for contemporary and stylish women.
VIP members have access to sales like "2 for $29" on bras regularly, and the seasonal updates include a delicious variety of styles, cuts, fabrics, and aesthetics cut to flatter a wide swath of body types.
ThirdLove (thirdlove.com)
ThirdLove is an American company that makes bras, loungewear, and nightwear. The brand offers half-cup sizing in bras for the perfect fit.
Yandy (yandy.com)
Yandy is an online fashion retailer that sells swimwear, lingerie, and even Halloween costumes. Founded in 2007, Yandy offers a wide range of basics and reasonably priced undergarments.
OUTERWEAR
Blacks (blacks.co.uk)
Setup in1861 by Thomas Black as a sail-making business on the Clyde River, the 2022 Blacks outdoor label uses the same materials and expertise the founder used to equip boats and ships.
Blacks are one of the most recognizable names on the high streets in the UK, creators of clothing, footwear, and outdoor equipment across the world.
Cotswold Outdoor (cotswoldoutdoor.com)
Cotswold Outdoor is an outdoor recreation retailer in the United Kingdom and Ireland.
The trading brand of Outdoor and Cycle Concepts Limited also owns the Snow and Rock, Cycle Surgery, and Runners Need chains of shops.
The Jacket Maker (thejacketmaker.com)
If you're looking for a perfect new leather jacket, trench coat, or any other variety of stylish outerwear pieces (for women or men), The Jacket Maker has you covered.
The company carries dozens of ready-to-wear styles from biker jackets to quilted pieces for added warmth, and new styles are added regularly.
THRIFT, VINTAGE, & SECONDHAND
Depop (depop.com)
Depop makes it easy to type in specific vintage brands or styles and find a bevy of options.
Break out the tape measure and make sure you're getting accurate sizing info – an excellent rule to follow for any online vintage hunting.
eBay (ebay.com)
eBay is an incredible resource for secondhand clothing, with everything from expensive, vault-worthy designer pieces from years (and even decades) past to more recent vintage sold at affordable prices.
Poshmark (poshmark.com)
Headquartered in Redwood City, California, and founded in 2011, Poshmark is the perfect place for finding fashion deals.
Whether you are looking for new or used clothing, Poshmark has hundreds of options – it just requires a little digging.
Mercari (mercari.com)
Mercari operates similarly to Poshmark in that you can both buy and sell your wares via the website or app.
Still, for those just looking, it's easy to type in any designer and browse through thousands of options available for up to 70% off retail price.
The RealReal (therealreal.com)
The RealReal is a luxury online consignment store that sells pre-owned designer clothing and accessories. You must create an account or sign in through Facebook to shop.
ThredUP (thredup.com)
ThredUP is an online retailer for secondhand clothing. The company is the world's largest online thrift store and has sections for designer and maternity clothing.
Unique Vintage (unique-vintage.com)
Unique Vintage is killing it in all categories, but their vintage clothing and apparel are carefully selected and curated to catch your eyes.
Online Clothing Stores FAQs
What is the best online shopping site?
Women's best online shopping sites are Romwe, Shein, Asos, BooHoo, Revolve, Nordstorm, Luisaviaroma, Farfetch, Rag and Bone, American Eagle Outfitters, and SSENSE.
What are the cheapest online shopping sites?
The cheapest online shopping sites for women are Boohoo, H&M, Asos, Missguided, Nasty Girl, Topshop, Forever 21, and of course, Amazon Fashion.
Conclusion
There you have it, the best 100 online clothing stores in 2022.
Putting together a list of the best 100 online clothing stores for women right now is no small feat.
There are so many online clothing stores and brands out there, all of which specialize in something.
This article has the best of all, from plus-size designer pieces, fresh off-the-runway frocks, eco-friendly T-shirts, small-batch collections under $100, ultra-cheap, budget online clothing stores, and niche clothing retailers.
Weekly Newsletter. Sign Up Now!
Celebrities, designers, and latest news in sustainable fashion.
Now it's your turn…
Which one of these online clothing stores is your favorite and why?
Are there any other online clothing stores you've tried and want to add to this list?
Comments below, please!